KEY POINTS:
• Range-bound trading expected to June/July
• Buying pressure and fair valuations for world index into mid-year
• Nikkei moves up with global markets. Economic, social problems persist for Japan
• Euro zone underperforms in sea of debt
• Australia points to higher world rates
World equity markets, whether we include or exclude the dominant S&P 500, are progressing well. Markets are not overbought or even overvalued (using forward earnings). They are simply advancing within a bull market.
Upward pressure
The chart of the MSCI World (ex USA) Index is displaying several important technical elements (Chart 13) compared to the combined global markets (Chart 14). First, is the main trend. That movement is still up but range-bound consolidation has clearly set in. There is stiff price resistance at the current range (1680-1700). Buying momentum (RSI) is falling back from near overbought levels. Price-to-earnings ratio is 14.17, which is fair value.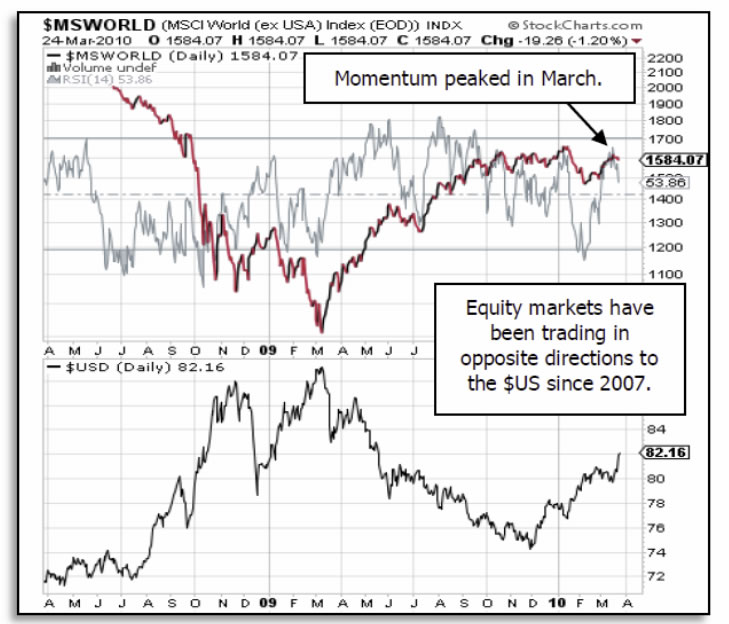 Chart 13
Looking at the broad-based Dow Jones World Stock Index (including USA) (Chart 14), there is a similar picture. RSI (Relative Strength Index) was overbought in March but is settling back (61.17). Buying momentum is rolling over. P/E is about 13.60 (forward earnings) which is an average valuation. The two charts illustrate just how joined global markets have become. Regardless of whether the US is included in the mix or not, the pattern is basically the same. They are mirrored to the $US dollar and flat trading under price resistance levels.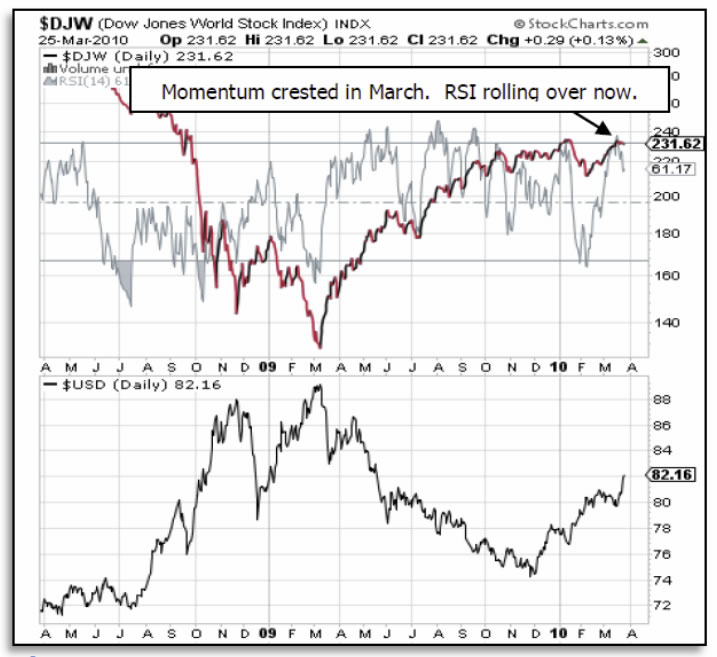 Chart 14
Bottom line:
Models suggest a high probability of range-bound trading for global equities into mid-year. As the stock markets are trading on an average 16-week cycle. The next low is anticipated in June or early July. This implies that stable pressure can be expected in April and some selling pressure in May. With a backdrop of fair valuations, improving overall world GDP growth and steady buying pressure, the outlook remains positive for 2010.
Asia: Turnaround for Nikkei?
After 20 years of stock market decline and economic deflation, has the Nikkei is almost a forgotten index. But after all this time, has it finally reached the bottom and starting to turn around?